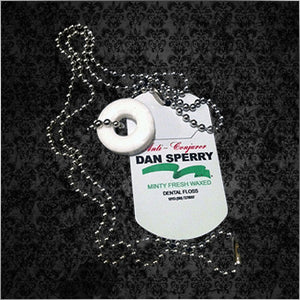 Based on one of Dan Sperry's most famous routines: THE LIFESAVER.
This necklace features high grade ball chain with full color laser printed "floss box" dog tag style charm designed to resemble a Johnson & Johnson dental floss box – but instead is inscribed with "Anti-Conjuror DAN SPERRY".
Also included on the chain is a specially made fake Lifesaver candy made out of high grade silicone rubber.
Check out the original video Dan first posted of the Lifesaver...